We check how deteriorated the battery is and the expected expiry left.
That shows you the ability on how much the battery can be charged.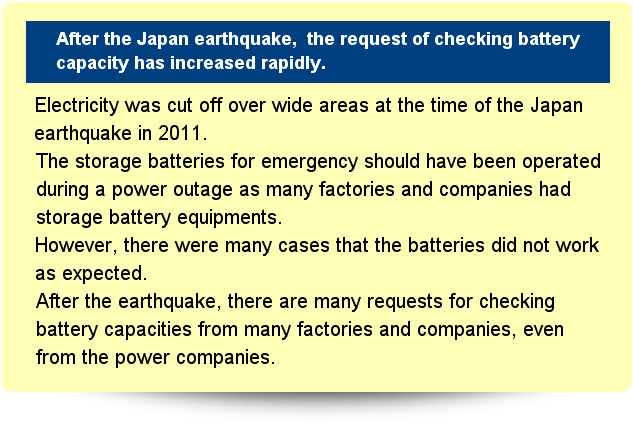 We do "short-term discharge testing" for each battery cell.
The results of testing is output shown as a graph.
We make a combined report of the results from "short-term discharge testing" and other diagnostic tests, and submit them to our customers.


Diagnostic
Item
Floating Voltage Measurement, Short-term Discharge Voltage Measurement,
Inner Resistance Measurement, Electric Motive Force Measurement,
Appearance Check
Diagnostic
Battery
Stationary Valve Regulated Lead-Acid Battery
Small-sized Valve Regurated Lead-Acid Battery
Vented type Stationary Lead-Acid Battery
Nichel metal hydride battery
Sintered type Alkaline Stationary Battery
Pocket type Alkaline Stationary Battery
Diagnostic
Time
Approximately 220 cell of batteries / day


The diagnostic time of the above is a rough standard. It depends on the situation.
---
We recommend a Battery Periodic Performance Testing Service once or twice a year to our customers.
This testing is similar to Battery Deterioration Diagnosis Service above.
---
---

---