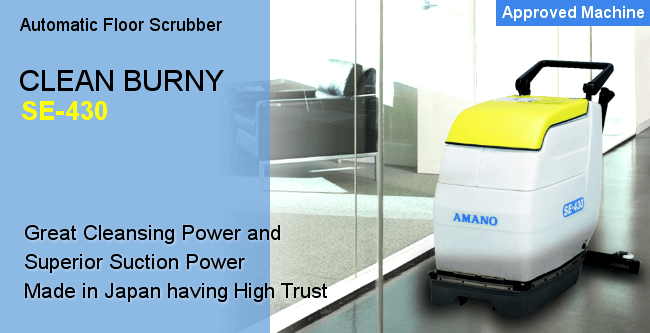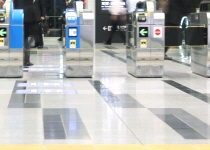 In the station, hospital, and public spaces.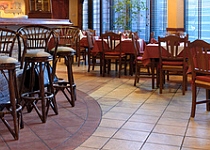 In the stores, restaurants, and shops.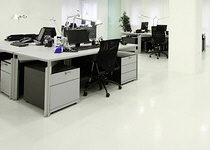 In the office, buildings, school and apartment.
---
Automatic floor scrubber " CLEAN BURNY SE-430" made by AMANO in Japan is a cleaning machine for business space used in a supermarket, a department store, a hospital, a convenience store, a factory and a variety of work spaces.
"CLEAN BURNY SE-430" has best work efficiency in Japan, and anyone can operate easier. So it's possible to clean the floor in a short time.
Many Japanese-affiliated companies went into the foreign countries and came to hear a lot of demands of the cleaning of the Japanese standard from overseas.
Keeping clean the workplaces enhance the work efficiency and safety in the workplace.
And also it will lead improvement of employee morale, and increase the ability to attract customers.
We change the parts of the used scrubber for a new parts, and we provides it in a performance state same as a new article. Therefore We offer a high-performance scrubber for low price.
We want to help with the realization of comfortable floor environment by introducing "CLEAN BURNY SE-430".
---
Feature
---
Easy Operation
---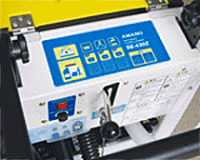 A start and the stop of the scrubber only perform single touch of a button.
It realize simple operation and usability by an illustrated operation panel.
---
Battery Management
---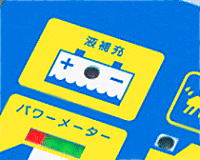 It is displayed on a operation panel if supplementary water is necessary for battery, so you can largely increase the life of the battery.
---
Compact Design
---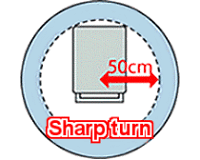 SE-430 have a small turning circle. It is possible to clean in narrow spaces.
---
Easy Pad Replacement
---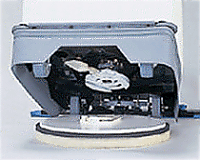 The one-touch lock makes it easy to replace pad or brush.
You can replace the brush or pad to easy and speedy by raising and lowering the lock.
---
No Wipe Twice
---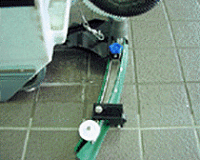 A squeegee collects all dirty water. So you never have to wipe twice.
---
Easy Drain Water
---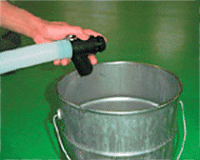 The specially-designed gate valve lets you drain water quickly and easily without getting your hands dirty.
---
New-Designed Squeegee
---

By durable improvement and special shape of the squeegee rubber, SE-430 can collect every dirty water on the floor and tile efficiently. Rubber replacement is easier by the adoption of new method.
SPECIFICATION
| | |
| --- | --- |
| Cleaning Width | 432mm |
| Squeegee Width | 820mm |
| Cleaning Capability | 800m2/h(Max.) |
| Cleaning Speed | Up to 4.0km/h |
| Washing Liquid Tank Capacity | 23litters |
| Recovery tank Capacity | 17litters |
| Pad/Brush Diameter | 432mm (17inch) |
| Pad/Brush Rotaion Speed | 250rpm |
| Caster Diameter(Front) | 75mm |
| Caster Diameter(Rear) | 180mm |
| Pad Motor | 500W |
| Suction Motor | 380W |
| Power Supply | DC24V(DC Battery 12V 65Ah x 2) |
| Running Method | Mannual handling |
| Size(W x L x H) | 490mm x 900mm x 850mm |
| Weight | 131kg |
| Allowable Continuous Operation Length | Approx. 2hours (*) |
* The operating hour various according to pad, floor, or bearing pressure conditions.
If you have any questions about the product and purchase, please contact us at the following address in Japanese or English.
*Any of the information we collect from you may be used to send you information, respond to inquiries, and/or other requests or questions.
COMPANY
Name
INFUSE Co., Ltd.
Establishment
December, 2005
Representative
Masatada Iwano
Address
879, Kozono, Ayase-shi, Kanagawa, 252-1121, JAPAN
Contact
TEL: 0467-70-1288 / FAX: 0467-77-1202
Business contents
Battery Regeneration Services
1. Recharge of old Batteries.
2. Research on a rechargeable battery
3. The production battery reuse device, sale, maintenance and repair
4. The usage of the battery reuse device and technical guidance for personnel training about the maintenance, education
5. Investigation, research, and development of a cost-saving system of night-time electric power use
6. The study of the accumulation of electricity, development

Maintenance Services
1. Maintenance, check and repair of electrical facilities and equipments

Rental Services
1. Lending of cleaning machinery
2. Lending of strage batteries and electrical equipments

Recycling Services
1. Collection and transportation of recyclable goods, recyclable row materials and waste products
2. Sales of recyclable goods and recyclable row materials
3. licenced antique dealer

Overseas Services
1. Importing, exporting and sales of electrical facilities and equipment